Back
4.3 The Research Proposal Evaluation and Selection Process
The core of BARD's activities is the support of collaborative research projects. Submissions for projects of a three-year duration are called for annually with a closing date in mid-September. Decisions are announced the following May-June.
The BARD review process is a three-tiered process consisting of ad hoc reviewers who are experts in the discipline of a given research proposal, independent Israeli and US scientific discipline panels, and the Technical Advisory Committee (TAC).
The selection process provides the opportunity for panels on both sides (US and Israel) to create a list of their priorities based on each country's needs. This enables a thorough review of each proposal and ensures that only the most innovative and scientifically excellent proposals which align with BARD's overall mission are funded.
The TAC consists of 10 prominent scientists, with equal representation of both countries, who are experts from diverse disciplines, and it is they who select the final interdisciplinary portfolio with a prioritized list of recommended proposals. The regular rotation of members within the TAC maintains the integrity of the selection process and keeps it constantly invigorated with fresh perspectives, thereby ensuring it remains open to new ideas and approaches to meet the agricultural challenges of the future.
4.3.1

The Average Rate of Approved Proposals
BARD has funded 41 rounds of submissions over the past 40 years (1979–2018), with two rounds in 1979 and 1980 each, and annual submissions since then. A total of 5,102 proposals were submitted, of which 1,330 were funded at a total budgetary commitment of $315 million.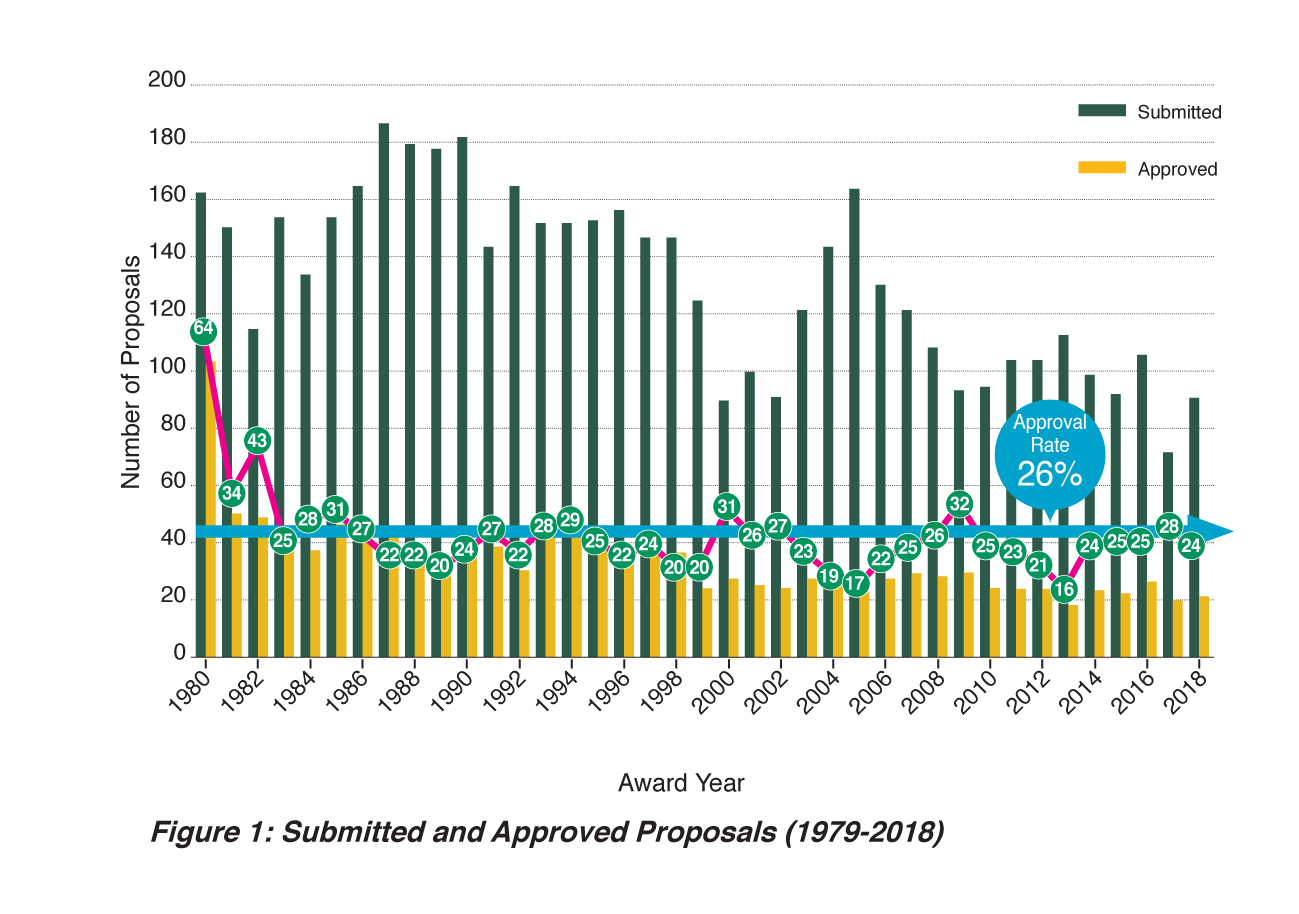 The mean research grant approval rate for all 41 rounds of proposal submissions is 26% (Figure 1). The fluctuation in the rate of grant approval is a result of the varying number of applications every year, as well as budget availability. Periodic changes in BARD granting policy have also contributed to fluctuations in the number of submitted proposals, thereby affecting the total number of proposals submitted throughout the 40 years of BARD funding. Changes in the number of researchers in all fields can also impact the number of applications.
4.3.2

Submitted and Approved Proposals by Research Field
The initial research priority areas were proposed in the "Potential Areas of Mutual Interests" section of the original agreement between the two governments. Over the 40 years, BARD's leadership has redefined the research areas to reflect topics of relevance to both countries and scientific progress in each field. Any suggested change in research areas was discussed and approved or rejected by the board of directors. The present 7 research areas representing BARD's portfolio are listed in Table 1.
Table 1:

Summary of Submitted and Approved Proposals by Research Field and Approval Rate (1979-2018)

Area of Research

Number of Projects

Approved Budget

Submitted

Approved

%

1,000s USD $,
Nominal Terms

%

Crop Production

1,525

395

26

96,277

31

Animal Production

741

196

26

47,881

15

Animal Health and Invasive Species

409

103

25

24,229

8

Food Product - Safety, Security and Quality

492

135

27

32,790

10

Crop Health and Invasive Species

970

250

26

59,623

19

Environment, Water and Renewable Resources

581

140

24

32,096

10

Agricultural Innovation and Engineering Technologies

384

110

29

22,163

7

Total

5,102

1,329

26

315,059

100
Table 1 shows the distribution of submitted and funded proposals across the research fields. As can be seen from the breakdown, the approval rate percentage is virtually identical throughout all areas of research, reflecting an impartial evaluation process that is not biased towards any particular research discipline a priori.